Calmness – Dark chocolate with herbs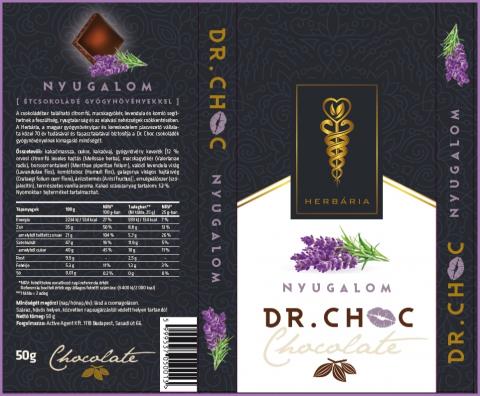 This chocolate containing lemongrass, valerian, lavender and hop can help in the reduction of stress, restlessness and in the difficulty of getting asleep.
Herbária, the market leader company of the Hungarian herbal industry and trade with nearly 70 years of knowledge and experience ensures the high quality of herbs used in Dr. Choc chocolates.
Ingredients: cocoa mass, sugar, cocoa butter, mixture of herbs [12% medical lemongrass leafy shoots (Melissae herba), valerian (Valerianae radix), peppermint leaf (Menthae piperitae folium), genuine lavender flower (Lavandulae flos), hop cones (Humuli flos), hawthorn flowery shoot ends (Crataegi folium cum flore), anise crop (Anisi fructus)], coca mass, emulsifier (soy lecithin), natural vanilla aroma.
Cocoa dry matter content: 53%
May contain traces of milk product.